[ad_1]

Since 2008, India has won four U-19 World Cup titles out of eight. In those tournaments, apart from few outstanding talents with the ball, it is the fast bowlers who have got not just India, but even someone like Ian Bishop genuinely excited. But so far, out of the 34 pacers who have featured in those eight U-19 World Cups, only eight have graduated to the international level, with Jaydev Unadkat being the lone one to feature in Test cricket. Having made his debut in 2010, he had to wait another 12 years for his next Test. Unlike the pacers, more and more batsmen have made smoothless transition with the likes of Virat Kohli, KL Rahul, Rishabh Pant, Shreyas Iyer, Prithvi Shaw, Shubman Gill all featuring in Test cricket and tasting success. In a fortnight, you can also add Yashasvi Jaiswal, who was part of the 2020 U-19 team, to the list as he looks set to debut in the Test against West Indies.
Apart from featuring regularly in the domestic circuit, these seamers have also generated interest among IPL franchises. In every IPL auction, on the basis of their performance in the U-19 World Cup that more or less happens just before the player auctions, or through the course of it, they have managed to get lucrative deals. But on field, they haven't been able to generate as much success as they would have hoped. It has taken them a few years under their belt in domestic circuit before even having a notable success in the IPL, but even there the examples are very few. Siddarth Kaul had done well for Sunrisers Hyderabad when they won the title. Sandeep Sharma, with a lethal inswinger in armour, has good numbers in the IPL and last season came up matured as a death bowler. Harshal Patel, with different versions of slower balls in his kitty, is one Royal Challengers Bangalore bank on regularly and it even landed him a spot in the T20 World Cup. Among them, Unadkat, a veteran of 101 first-class matches, has over the years gone for big money at the IPL auctions, but in the 13 seasons that he has featured, has played more than 10 matches in a single edition only on four occasions. On the other hand, Sanju Samson, Ishan Kishan, who haven't for a long run in the senior India team, are not just regulars, but also consistent at the IPL.
The question is, after showing so much promise in the junior level, why do the young Indian pacers fizzle out and are not able to make that transition.
Why do they remain an enigma?
Former team India bowling coach Bharat Arun feels there are one too many reasons attributed to this. "When you are in U-19 you are looked upon as a potential prospect. At that time you are fresh, you haven't played much. Your bodies won't take the load because you haven't bowled that much. Fast-bowling is a very strenuous activity and it places a huge risk of injuries on every bowler. One thing that is the need of the hour is every state should have a vibrant programme where the coaches have a good understanding of strength and conditioning. They work with the pacers, getting their bodies strong and also, you need coaches with a better understanding of fast bowling. You got to understand that each style is different to the basics of the games. It is about blending one style as close to the basic without changing the action. You can't change anyone's actions. Every action is unique as somebody's handwriting," he told The Indian Express.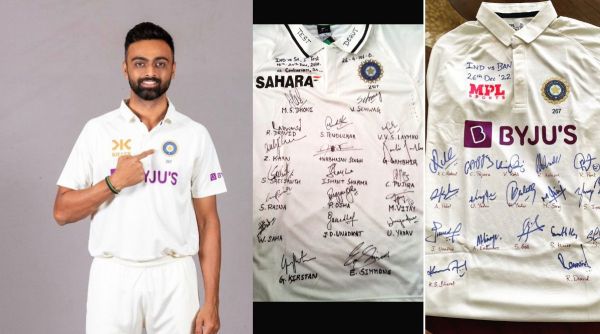 The gap between Jaydev Unadkat's first and second Test are of 12 years. (Twitter/Jaydev Unadkat)
"To develop a fast bowler is a time-consuming process, it needs a lot of work. There has to be a right balance between physical conditioning and skill work. You overdo one of these and it could land you in a problem. Good understanding of workload management is also crucial for developing fast bowlers," he added.
Former national selector MSK Prasad lambasts the state units for the poor treatment of the U-19 pacers. "If you recognise a good fast bowler, you must take care of him. We don't really know how to take care of them. We make them bowl 25-30 overs on placid tracks. By the time Ranji Trophy season ends, if they have played all eight matches, they will end up bowling 400 overs. They are not robots. There is a reason why many of the fast bowlers, who show a lot of promise in the junior level, lose all the gas. They don't graduate to the next level because at the grassroots level they are mistreated," said Prasad.
Meanwhile, Saba Karim, another former selector, feels their inability to back their U-19 performances in the Ranji Trophy is one of the main reasons why talented young pacers are never able to make that transition.
"After the U-19 performance, you need to back it up with a very good domestic performance. In the past several years, all those young pace bowlers, who play in the U-19 World Cup, whenever they have been given an opportunity for their respective states, very few of them have done well. Unless you do well in the Ranji Trophy, your progress towards the national side kind of diminishes," said Karim.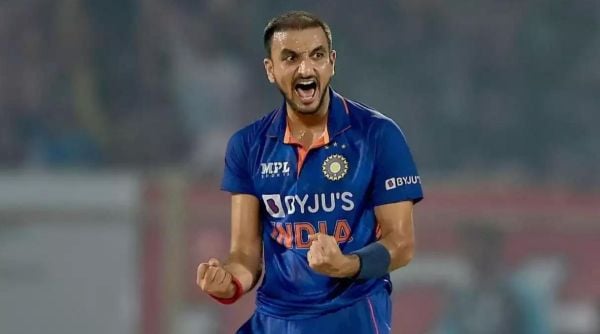 Harshal Patel has played 25 T20Is for India
"As a selector and as a scout, when you spot somebody at the U-19 level you want to see the progress in that young pace bowler. One needs to show patience but for how long. You look at the progress for one year, two years and maximum of three years and when the performance is not coming up, then the faith in that bowler also goes away," he added.
The fitness method
Former Pakistan pacer Aaqib Javed feels the 16-23 age is very critical for the pacers and during that age, the coaches and the board must take extra care of them as there is a 90 percent chance of breakdowns.
"It's a growing age. You get a couple of inches taller, the bones also develop. The two things critical for the young pacers are how they manage their workload and their training pattern," said Javed.
Javed says the current training method where the cricketers do lifting makes them more prone to injuries. "In our time it was all about running. There was no concept of weights. And when the weights came into the training, it was more of a bodybuilding. Trainers started focusing more on the muscles. They want the bowlers to be muscular. They worked on a specific alignment. But bowling in altogether is an unnatural act. No sport in the world will have this kind of rotation. Maybe in the mixed martial arts and wrestling, where you need force but they don't generate that momentum what a pacer does in their run up and the way they rotate their body to deliver the bowl," he explained.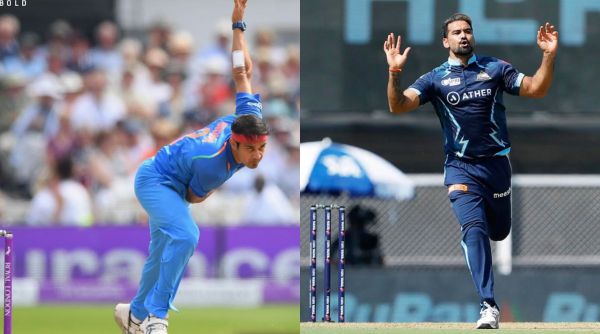 Siddharth Kaul (left) and Pradeep Sangwan are from the 2008 U-19 winning team. Kaul has managed to play three ODIs and three T20Is for India, while Sangwan never made the cut.
"Bodybuilding exercises are not good for fast bowlers. The weightlifters training is more suitable for a pacer. The weightlifters lift the weight from some extremely bad angles, but they hardly get injured," he added.
Arun echoes Javed's thoughts that 16-23 is a critical age of fast bowlers due to their physiological and psychological development.
"I feel the Indian male are at their peak with their fitness between 23 and 25. And for a pacer there should be a balance training method. Fast bowling is not only about running well. There's speed training, speed endurance, strength work. It's not just one skill alone, like only running will make me better. You have to run, you have to learn to run fast. You need good recovery as well," he said.
"If they continue to tick all the boxes, they would at least last for five or seven years. Also you cannot control what they do in the match, you expect a fast bowler to bowl 30 overs in a game for the team to win. But what you can really control is, after the game, how much training he needs to do, give him a break from bowling in the nets, if he has bowled so much in the match. You won't see many injuries if they are judiciously managed," he said.
Arun also gives the examples of Ishant Sharma, Mohammed Shami, Jasprit Bumrah, Umesh Yadav and Mohammed Siraj and explains why they excel at the top level and why it is a high time that every state association must have their own program and they should not be depended upon the National Cricket Academy (NCA).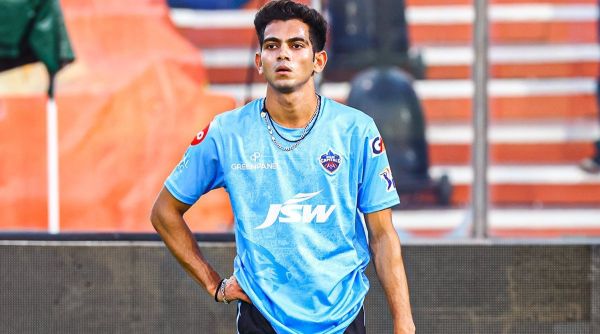 Kamlesh Nagarkoti, the member of 2018 U-19 World Cup winning team has spent more time at the National Cricket Academy than on the field due to injuries.
"Shami, Ishant, Umesh, Bumrah – they all had their fair share of injuries but have lasted quite long because they gave importance to all these fitness parameters. I don't know whether the next crop of the Indian pacers are following all those parameters. Only the cream would go to NCA, what about the others? I feel every state needs to have a vibrant programme where the talented fast bowler can be worked upon," he said.
Javed also has one piece of advice to the young pacers that if they are not batters, they can't afford to switch off during the off-season.
"Not every fast bowler went on to play for fifteen years. Nowadays, I have seen this trend, that you play an entire season and would take a six-week break. That's the biggest mistake. Your body is toned up for six months. You can't afford to go on a break. If you are not bowling for two weeks, you have wasted all your bowling training. 90 percent of bowlers get injured when they come back from a break. Not bowling at all in the break is not healthy. In the off-season also, you need to bowl six overs on your alternate days. You just cannot go dry. Total rest from bowling is a disaster move, you are not a batter," he said.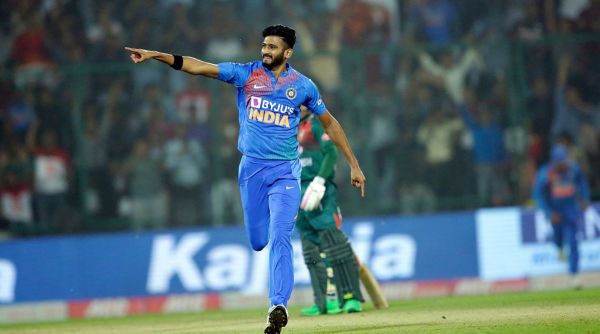 Khaleel Ahmed played 11 ODIs and 14 T20Is for India but then he faded away. The left-arm quick has not played a single Ranji Trophy game for his state team in the last two years.
IPL and the reluctance to play four-day cricket
India seamer Deepak Chahar on the show Breakfast with Champions hosted by Gaurav Kapoor cited how IPL has provided financial security and said it is the reason why the batters like Suryakumar Yadav and Ishan Kishan go on and hit the first ball for six in their debut games. Chahar called it a "freedom" and lavished praise on the IPL for removing the "fear factor" from an Indian cricketer.
In hindsight, former India seamer Karsan Ghavri, who a few years ago led BCCI's pace bowling academy at the Mohali cricket stadium, blames it on the IPL to kill the burning desire among the cricketers to play for India.
"Some players are just happy playing in the IPL. They are getting good money and they don't have the fire in the belly anymore to play for India. They don't want to bowl 15-20 overs in a day. I will not take the name; there was a pacer he almost played for India. One day in Mohali, 'I asked him you are a good bowler; you have got a good physique if you could push yourself a bit. I can't see why you can't play Test cricket for India. He replied: 'Sir, I don't want to play Test cricket. I am happy bowling my four overs in the IPL. I get my money, and I am content," recalled Ghavri.
It is a reality that more and more state associations are witnessing these days where fast bowlers hesitate to feature in the Ranji Trophy matches towards the end of the season as any potential injury could rule them out of the IPL.
"Young pacers don't want to play first-class cricket is a shocker. During my tenure as a selector, no pacer came with this proposal that they don't want to play red ball but you can get the idea that who is keen to play and who is not. It's a dangerous trend. I can understand if someone after playing for 10 years wants to quit one format, but for youngsters, who are 19,20,21, if they are being picky, then it's a sad affair," said Prasad.
"If these kids are happy with the money they are earning, what would happen if the franchise lets them go after one bad season. It would be all over for them," he added.
Javed says the youngsters who only want to play the white-ball cricket will not last long. He said: "If you do not play four-day cricket, you will never be able to test your fitness. The moment you decide that you only want to play white-ball, you are finished. You will not be the same bowler."
Arun feels white-ball cricket is an easy way out. "It is extremely important for them to play red-ball cricket. It is where you develop your skill sets. White-ball is an easy way out. I think for any young pacer, you need to bowl those 25 overs in a day, and if they would do so with proper training and recovery, I can't think why the individual won't be able to play all forms of the game."
Karim, however, disagrees and says it's up to an individual and because of the demanding domestic schedule, there would be more in the future. "It is up to the individual also. For example, we all think that Umran Malik can do well in all the formats but one year down the line, if he comes to the selectors and tells them that he doesn't want to play Test cricket. Can you stop him from doing that? You can't. It is a personal choice.
"I have also heard that there are many bowlers, who don't want to play first-class cricket, they think it is a very demanding schedule, which is also correct. To play Ranji Trophy, Syed Mushtaq Ali, Vijay Hazare and then the IPL, you need an extraordinary fitness level. For a pace bowler, it is not easy," he said.


[ad_2]

Source link