From an early age, cricket meant a world to Raunak Sadhwani. However, he couldn't pursue it seriously. No club in Nagpur entertained a five-year-old. Too young to face the hard ball, he switched to chess.
The plan was to switch back to cricket but that was not to be.
"I used to play cricket and was a pretty good batter for my age. But the club I was playing for told me I cannot play for them officially until I was 10 or 11 years of age. I said until then I'll play chess then we'll shift again," Raunak tells The Indian Express from Dubai where he is playing for the Balan Alaskan Knights in the inaugural season of the Global Chess League
Hooked to chess, Raunak never switched to cricket. In 2019, when he was just 13 years of age, he became the ninth youngest player in the world at the time (and the fourth youngest Indian) to become a Grandmaster.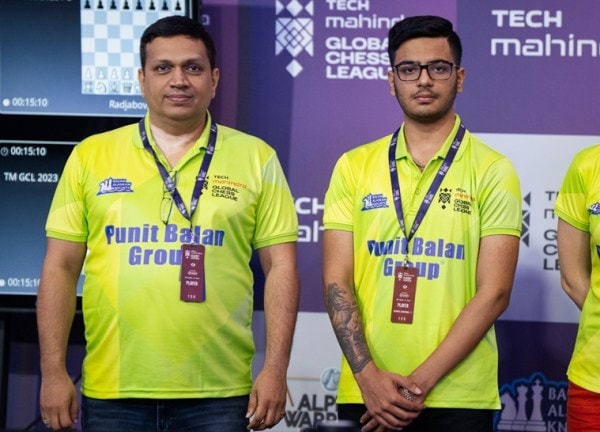 Raunak with GM Abhijit Kunte who is a mentor for him. (Credit: Global Chess League)
Despite hailing from Nagpur, which had produced no grandmaster before him, Raunak has seen his fledgling career shaped by GMs. His case perfectly illustrates how much he has benefited from the rapidly expanding Indian chess ecosystem. He's currently being trained by GM Swapnil Dhopade, who has moved to Nagpur. Another GM, Abhijit Kunte, has been his mentor.
He was also part of the group of teenage GMs hand-picked by Viswanathan Anand to train at the Westbridge Anand Chess Academy. At WACA, he has learnt the nuances of the sport under the tutelage of five mentors who bring their unique viewpoints and influences on the chessboard.
There's Poland's Grzegorz Gajewski, who is a long-time second for Anand, who recently also helped Gukesh finish third at the Norway Chess event and is renowned for his work in opening theories. Then there is India's GM Sandipan Chanda, who helps the prodigies with their mid-game prep. There's Russia's Artur Yusupov who is renowned for his endings. Boris Gelfand and Anand also hold sessions for the youngsters.
"Those were good classes and helped me get into shape when the pandemic left us with nothing much to do," says the 17-year-old. "In the past, we used to have three classes a week. This was during the COVID-19 times. We had this for two years. Now we have three or four classes a month."
The Kramnik effect
Having learnt from a variety of GMs, each sharing their own tricks of the trade with him, Raunak can never forget one training camp he had with world champion Vladimir Kramnik in August 2019.
Back then, he was still to complete his three GM norms. Yet, recognising his potential, he had been handed an invite to train under Kramnik in France's Chens Sur Leman along with D Gukesh, R Praggnanandhaa, Iniyan, Prithu Gupta and Leon Mendonca. The camp, called the Kramnik Microsense India Chess training program, was the brainchild of ChessBase.
"The time I worked with him, his temperament was really good. He was taking things really calmly. Even if he was in a worse position in training games, he would respond with good moves. He was defending bad positions also at times. I really liked that. I got a chance to play with him briefly. That camp helped me a lot in improving my positional understanding. I had great results immediately after the camp. Immediately after that camp, I completed my third norm in the world's strongest tournament (at the Isle of Man) and became a GM," says Raunak.
And while the same bunch of teenagers were invited for another camp with Kramnik in Chennai a few months down the line, Raunak still waits for his opportunity to learn from the world champion.
"I still need to learn a lot from him. I want to work on all aspects, particularly my positional play and calculation on the board. There's a lot of scope for improvement. You can only do that if you have a very strong coach like Kramnik. I'm waiting for my chance. I would love to work with him in the future. But without sponsors, it's really difficult to afford that. So I'm looking to get some sponsors," says Raunak.
At the ongoing GCL, Raunak has also been getting help from Azerbaijani GM Teimour Radjabov.
"I really get upset when I lose games. So Teimour has been helping me keep calm. He's a very positive influence," he says.