Azad Singh Malik vividly remembers how once he shouted at India's top goal scorer at Asia Cup, Annu, for reporting late after she left home for only two days and came back five days later. Annu wiping her tears, told Azad, "sir bus kiraye ke paise nahi they tabhi late ho gayi (Sir I got stuck at home because I didn't have the required bus fare).
"On Friday, she left for her home and was supposed to come back on Sunday. She joined on Wednesday and when your most obedient and hard working student does something like that as a coach, you lose your temper. I gave her a mouthful. She started crying and then what she said is still in my subconscious mind," Malik told The Indian Express.
"I had no clue about her financial situation. She used to play with borrowed hockey sticks. I did a bit of finding and when I came to know the reason, why her parents sent her to Sirsa Nursery and then to SAI's Hissar centre, it broke my heart," he added.
At the age of nine, Annu, who hails from Roj Khera in Haryana's Jind district, moved to a sports nursery in Sirsa run by the Haryana government, where accommodation and meals were free.
"I started playing at my school. There was no astroturf, we used to play in the school's premises only. One of my school teachers told my father that I am good in hockey and he must take me to Sirsa for trials. I did well got picked," Annu, India's leading goal scorer at the Women's Junior Asia Cup, told this newspaper.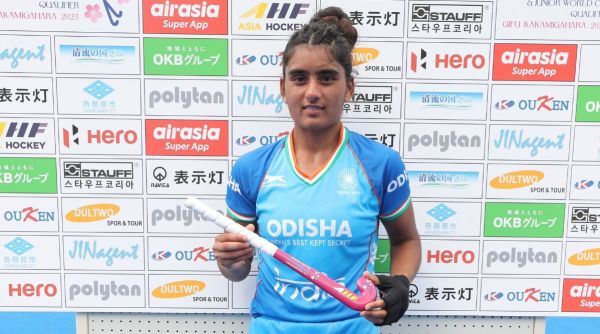 At the age of nine, Annu, who hails from Roj Khera in Haryana's Jind district, moved to a sports nursery in Sirsa run by the Haryana government, where accommodation and meals were free.
Annu's father Raj Pal, is a farmer. His finances weren't enough to support Annu's training as well as academics. The free accommodation caught his eyes and against the wishes of his wife he decided to send Annu to the nursery in Sirsa.
"After a week, my parents came to see me. The moment I saw my mother I started crying. After seeing me in tears, my mother also started crying. She begged my father that we must take her (Annu) home. My father was rigid and he said 'If I will take her home now, she will keep running away from all the problems in future.' Let her give a couple of weeks, let her settle down. He was right. After a week, my parents left, I got lost in hockey and my father's decision turned out to be a blessing for me," she said.
It was Raj Pal, who first saw the glint in Annu's eyes, when she saw the image of Rani Rampal in a local newspaper. Raj Pal, would try to arrange the newspaper everyday and would try to collect all the information about Rani Rampal.
"He used to narrate the stories of Rani di to me. I remember there was a big story on her about her journey, the struggle and the financial struggles she had to face. Rani di's story inspired my father and later on, she became the motivation for me as well," recalled Annu.
After playing for one and half years at Sirsa, Annu caught the eyes of Azad Singh, who was in Sirsa to meet his brother Jagjit Singh Malik, who was the coach at the nursery.
"She was too good for her age. She had this natural speed, she was definitely the quickest in her age group. What excited me the most was her ability to dribble. She was not only athletic but she used to try different things with her hockey stick. With the help of my brother, I got in touch with her father and she came to Hissar," said Malik.
"I told him that her accommodation will be taken care of. Then only her father agreed. One of my friend, who is an SDO in Hisar, (Karam Pal Sindhu), he once saw her playing and while having a normal discussion, I told him about her financial situation. He immediately said I will sponsor her. He bought her shoes, hockey sticks, and other training kits," said Singh.
Besides financial issues and the homesickness, Annu also had to face unrelenting interference of pesky neighbours and snoopy relatives.
"My father took a stand. You know the mentality but he was hellbent that I will play hockey and he never gave up on me. I will always be grateful," she says.
After her stellar performance in the Junior Asia Cup, Annu has gifted her parents smartphones as she doesn't want them to miss her in the Women's Junior World Cup to be held in Santiago, Chile from November 29 to December 10.
It is going to be a long road for Annu to emulate her childhood idol Rani Rampal. But the forward definitely knows the importance of patience and perseverance and knows that she is just off the blocks.
"Khone ko kuch nahi hai mere pass bas wo ek aag hai andar jo yahaan tak laaya hai aur aage bhi le jayega (I have nothing to lose. The fire in my belly has helped to reach here, and it will keep me going forward," she said.