India vs Australia World Test Championship final, the stage is set for a blockbuster encounter, with two of the best teams in the world going head-to-head for the ultimate prize in Test cricket.
The match will be played at The Oval in London, starting June 7. While India may be slight favourites, having won their last Test series against the Aussies, one must not forget that it was at home. Now they face their familiar foe away from home in a neutral venue.
How will the conditions be at The Oval? This can be anyone's conjecture. But the team that can best adapt to the conditions and make the most of their opportunities will be the one that comes out on top.
Interestingly, Australia played at The Oval in 1880 in what was the first-ever Test in England. But since then, they have managed only seven Test wins out of the 38 Tests they have played at the Oval. Hence, their success rate at this ground reads a sorry 18.42 per cent.
So Australia may not be the odds-on favourites, but they have a wealth of experience in their squad led by Pat Cummins which includes a lethal attack and one of the best batsmen in the world in Steve Smith. Their attack led by Cummins includes Mitchell Starc, Scott Boland, Nathan Lyon, who all are capable of taking wickets.
Lessons from 2015
David Warner, Smith, Starc and Lyon know what it takes to win at this venue — after all, they were a part of the team that won by an innings and 46 runs against England in 2015. So all Australia needs to do is recall the lessons they learned from their visit eight years ago and what they gathered from the bitter defeat in the subcontinent this year.
Warner, is one of the most destructive batsmen in the world, and he will be looking to fire Australia to a good start if they choose to bat first. Considering the average first innings score is 343 (drops down to 156 in the fourth) and teams winning the toss have won 38 matches as compared to 29 by the one's bowling first, it should not come as a surprise if the Kangaroos opt to bat first should Cummins win the toss.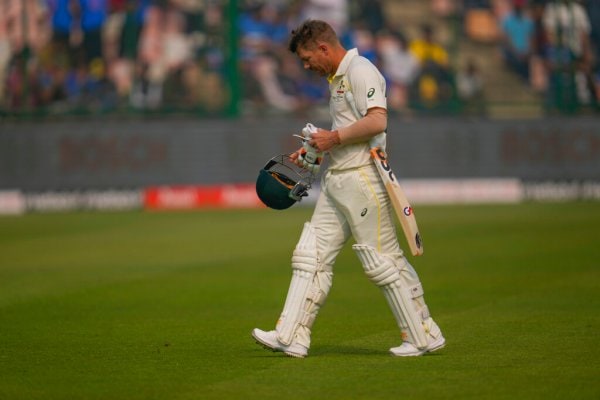 Australia's David Warner walks back to pavilion after his dismissal during the first day of the second cricket test match between India and Australia in New Delhi, India, Friday, Feb. 17, 2023. (AP Photo/Altaf Qadri)
In 2015, Warner had played a fine knock of 85 and with Chris Rogers, built a solid opening stand. Smith led the visitors with his 11th Test century and scored 143. Starc then clattered some blows in a rapid fifty to push his side past 450 to a solid total of 481. This put Australia very much in the driver's seat as they gained the advantage in the first innings and never let it go through the game.
Countering swing and seam on English shores
In a chat on SEN cricket, Australia batter Marcus Harris gave an insight on what might help the Aussies counter the threat of swing and movement early on. Biding time in the middle and playing patiently is paramount to succeed. "It is always going to swing in England with a Duke ball, and there is the movement of the seam.
As an opening batter, you need to play the ball late. When I played County cricket for the first time, I kept chopping it back onto my stumps most of the time because I played too far in front of my body. So little things like these need to be adjusted."
"Another aspect is defending straight and scoring square. Give yourself a bit more time to assess conditions. All you need to do is get in, and then England is a great place to bat," explained Harris.
In the final, Australia have Smith and the likes of Marnus Labuschagne, Travis Head, and Cameron Green, who add a different dimension altogether. All of them are capable match-winners on their day and technically correct batters, but sometimes they do get ruffled by spin.
Don't' get spooked by spin
Australia last played against India in the red ball format during the Border-Gavaskar Trophy 2023 in the subcontinent earlier this year. During their defeat, they were inside reports of how Australian players had effectively become 'spooked' by the spin and bounce. Andrew McDonald, the team's head coach, had then told Cricket Australia that his team needed to stay true to their 'blueprint' even when things did not go according to plan and slow down proceedings in situations where wickets were falling in a hurry.
Ravindra Jadeja and Ravi Ashwin celebrating after picking up a wicket against Australia in the first Test in Nagpur. (FILE)
McDonald, in that conversation had referred to the Delhi Test where Australia had collapsed dramatically as Ravindra Jadeja and R Ashwin ran riot.
"I think that's something we probably learned about ourselves was 'don't pivot when you don't need to'," McDonald had told SEN radio station. "One thing we felt was we got rushed in that (Delhi) game, and things happened too quickly. In the next Test match (at Indore), we made sure we were able to take our time within the game and make sure Jadeja and Ashwin weren't able to rush us."
Australia assistant coach Daniel Vettori shared his thoughts and said, "The stress points are around the losing of wickets. That is where it can get a bit insular, and you feel it is just you against eleven other guys." So this is an aspect that the Aussie batters need to keep in their subconscious mind.
Choosing the third choice pacer
With Josh Hazelwood deemed unfit, a key aspect will be the choosing the third seamer to partner Starc and Cummins. Boland seems as the likely replacement on paper in the starting XI for the final. The 34-year-old, who has 28 wickets in seven Tests, is yet to play a Test in English conditions and went wicketless in his only five-day clash with India in Nagpur. But according to former Australia captain Ricky Ponting, Boland will be the ideal pacer to replace Hazelwood instead of Michael Neser, who has been included in the side as another fast-bowling option.
Citing Boland's record over the past year, Ponting explained: "Boland's record when he's played over the last 12 months has been absolutely outstanding. He would really, potentially thrive in these English conditions. We've seen what he's been able to do in Australia when there has been a bit of assistance off the wicket there and with the ball. So I think he'll get the nod ahead of Neser," Ponting told The ICC Review.
Australia predicted XI: Usman Khawaja, David Warner, Marnus Labuschagne, Steve Smith, Travis Head, Cameron Green, Alex Carey, Mitchell Starc, Pat Cummins (c), Nathan Lyon, Scott Boland.